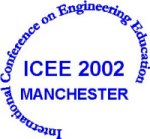 International Conference on
Engineering Education 2002
Partnership, Policy, Practice
UMIST, Manchester, UK
18 - 22 August 2002
Discussion Panels
The Universities of Greater Manchester have combined to organise ICEE 2002. This international conference and associated exhibition has a global perspective and has been held previously in Chicago, Rio de Janeiro, Prague, Taipei and Norway.
A number of discussion panel sessions will be included in the programme for the ICEE 2002 conference. Each discussion session will be led by a panel of invited speakers - the following list shows the themes that have been chosen.
Click on the links below to see more details about the discussion panels.